Frequently Asked Questions
Orthobiologic Therapy FAQs
Regenerative Medicine FAQs
Stem cells are "unspecialized" cells that can develop into another type of cell that is required to repair or replace damaged tissue. They are the body's "repairmen." We all have stem cells because our own cells are continually dying and being replaced with new cells. Stem cells are present in bone, fat and blood, but are concentrated mostly in the bone marrow, where blood cells are made. Bone marrow (hematopoietic) stem cells usually develop to form whole blood – red blood cells, white blood cells and platelets. However, in other parts of the body, when exposed to the right growth factors and signaled by neighboring cells, these stem cells can develop into other cells, such as bone, cartilage, tendon and ligaments and therefore, can "regenerate" body tissue. They can also reproduce to make more stem cells for more even healing.
Yes, according to a recent study1 "it is feasible to obtain large numbers of high-quality autologous (your own) MSCs (Mesenchymal Stem Cells) from the elderly population."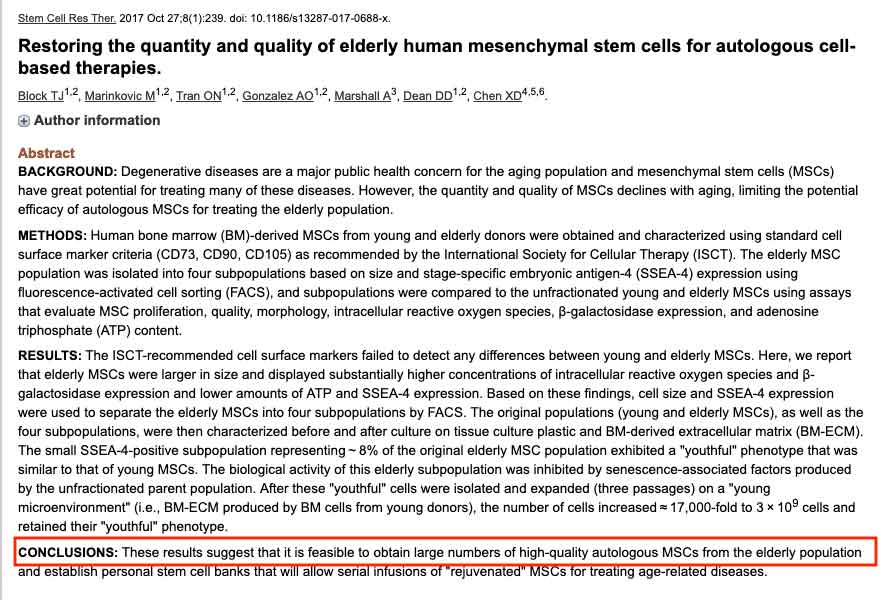 1. Restoring the quantity and quality of elderly human mesenchymal stem cells for autologous cell-based therapies. Block TJ, Marinkovic M, Tran ON, Gonzalez AO, Marshall A, Dean DD, Chen XD, Stem Cell Res Ther. 2017 Oct 27;8(1):239. doi: 10.1186/s13287-017-0688-x.  Link to Article
Autologous Stem Cells are your own stem cells and allowed by the FDA under Section 361.
Allogeneic Stem Cells are stem cells from another human being. They are severely restricted by the FDA and must go through a complex costly Section 351 "cell drug" registration. Currently, there are no live FDA approved Umbilical Cord or Amniotic or Placental stem cell products.
Conditions and Diseases FAQs
We only treat orthopedic joint, muscle and tendon problems where we feel that the medical studies are solid and compelling and within FDA regulations and guidelines.
We do not treat:
Systemic conditions such as COPD, stroke, heart disease, Parkinson's disease, multiple sclerosis, lyme disease etc. 
Patients with active cancers and/or infections.
Patient with severe anemia or other blood problems.
If bone marrow cells are to be utilized and a patient had a history of a bone marrow derived type of cancer (i.e. lymphoma), this would be considered a relative contra-indication.  However, many times those patients can utilize PRP injections but the ultimate decision maker should be their oncologist.
ENJOY LIFE AGAIN WITHOUT JOINT PAIN OR SURGERY
Find out if you are eligible for our treatments.
Is Orthobiological Cell Treatment Right For You?
Although Orthobiologic Treatments are considered by some people to be experimental, various research studies show that cellular therapy and platelet rich plasma injections may provide excellent relief from joint and musculoskeletal pain and ongoing inflammation.