Boosting NAD+ levels can improve those aspects of health associated with aging and age-related diseases.
NICOTINAMIDE ADENINE DINUCLEOTIDE, (NAD+) IS  A COFACTOR COMPOUND FOUND IN ALL LIVING CELLS. ITS MAIN PURPOSE IS TO FUEL METABOLIC REACTIONS TO METABOLIZE CARBOHYDRATES, FATS AND AMINO ACIDS.
NAD+ plays a role in regulating cellular metabolism, DNA repair, and stress resistance by acting as a substrate for enzymes like Sirtuins and PARPs.
Intravenous NAD+ treatment is a therapeutic process that involves administering a coenzyme called nicotinamide adenine dinucleotide (NAD+) directly into the bloodstream, which supports cellular energy production and overall cellular health.
NAD+ is involved in metabolism, neurologic and muscular function, cardiometabolic health, cellular repair, and scientists believe it plays an important role in the aging process.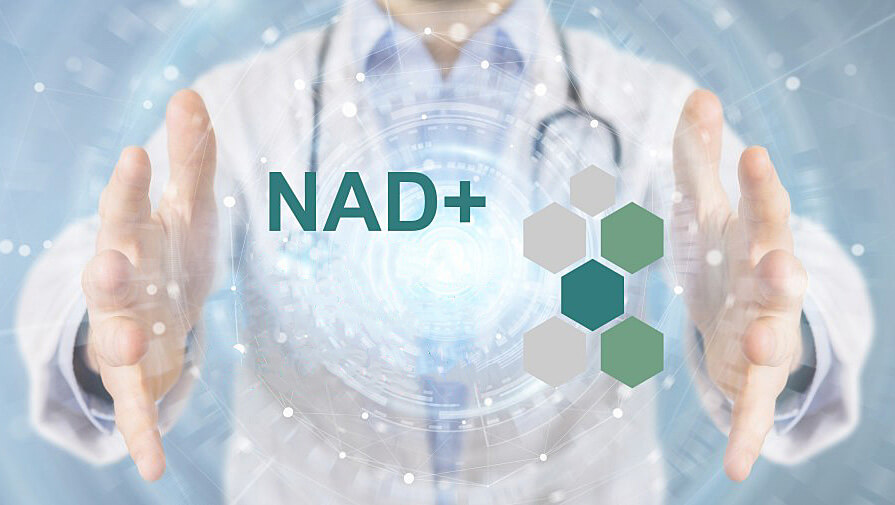 POTENTIAL BENEFITS OF NAD+
Improved cognitive function

Enhanced energy levels
Reduced inflammation
Anti-aging and Muscle Protection
Protects Brain Cells (especially from stress)
DNA Repair
Energy:
NAD+ is key in the function of mitochondria, the energy-producing structures in cells. Increasing NAD+ levels might help improve mitochondrial function, potentially benefiting conditions such as chronic fatigue syndrome and other conditions related to energy metabolism.
Aging:
NAD+ stimulates a group of anti-aging genes called the Sirtuin genes, which control one of the most important pathways of aging. NAD+ also plays a role in the activation of proteins that are involved in DNA repair. 
Brain:
There are several studies that show NAD+ can signal the growth, repair and development of brain/nerve tissue. NAD+ could have neuroprotective effects, possibly benefiting neurodegenerative conditions like Alzheimer's and Parkinson's disease.
Stem Cells:
We believe that NAD+ supplementation can increase the efficiency of stem cells, by providing more ATP to cells as they differentiate.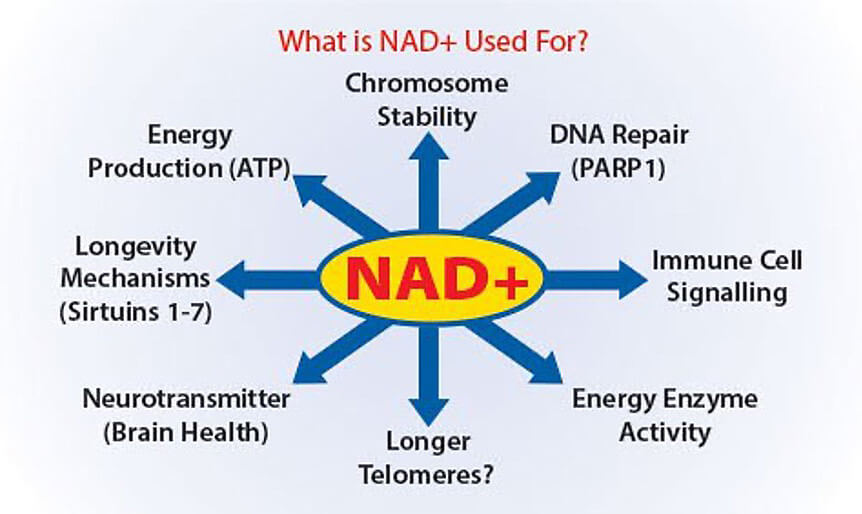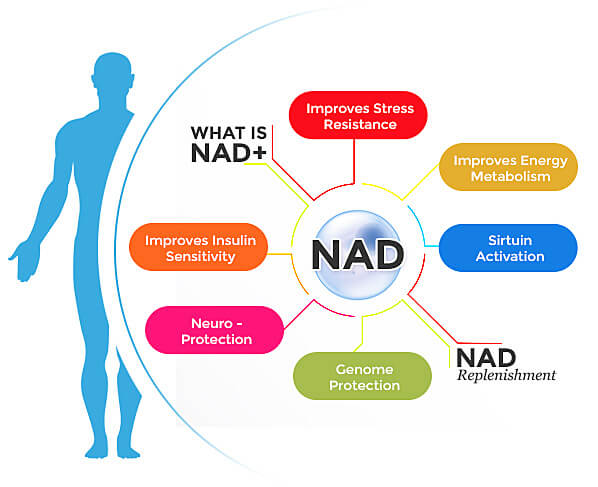 Researchers investigating brain health and longevity have found NAD+ is an essential coenzyme that promotes cellular regeneration and brain restoration. Studies have found replenishing cellular levels of NAD+ can repair DNA, protect brain cells from damage, reduce inflammation and turn on enzymes that help prevent aging. An NAD+ infusion helps protect your neurons against the effects of neurodegenerative diseases.
Many chronic conditions, including chronic fatigue syndrome, neurodegenerative disease and mental health disorders have been linked to cellular dysfunction and dysregulation. NAD+ therapy may help reduce the symptoms of many chronic conditions and may help individuals suffering from chronic conditions regain their vitality and strength.
Intravenous NAD+ has been used since the 1960s to help individuals detoxify from alcohol and opioid dependencies. In the last ten years, NAD+ has been
more widely used to help detoxify from other types of chemical dependencies including benzodiazepines, methadone, suboxone, methamphetamines and stimulants.
THE SCIENCE OF HEALTHY AGING IS HERE.
MAKE TIME AND TAKE CARE OF YOURSELF.
Find out if you are eligible for our treatments.
Our Healthy Aging Treatments